News from Councillors Lucy Bywater & Ben Foley
(Green Party councillors for Castle ward), February 2022
Welcome to Castle Ward newsletter February 2022
Well we've been keeping busy and balancing the needs of the community with the need globally to address climate change. We hope you see the positive contributions that your Green councillors are making, but if you want to know more or have items you want addressing, you can always contact us via email (details at the bottom of the page).
And, we're always looking for volunteers so if you have a couple of hours a month then why not sign up via our volunteer form?
20mph limits will come to the whole Castle Road area
Following the overwhelming support for 20mph limits in the recent consultation, the paperwork has been done and a 20mph limit has been approved for all of the streets marked in green on the map below (to add to the ones already approved, marked in red). All we are waiting for now is for confirmation of the dates when the signs will be put up. We want them put up soon, and will be working hard to maximise publicity for the new limit when it comes in, to remind people of the change. If you would like a poster or to help publicise the limit when it comes in, please fill in the form here.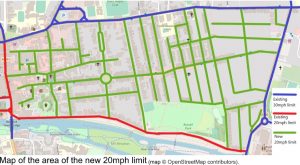 Crime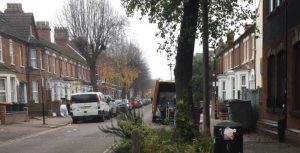 In Midland Road area, the petition about the over-concentration of temporary accommodation, which Green councillors Ben and Lucy helped residents with, was presented at Full Council meeting in January. The residents concerned and councillors support council provision made for people who are homeless but putting a lot of temporary accommodation close together increases the number of potentially vulnerable people in a small area. This puts these same people at greater potential risk from nearby anti-social behaviour or, even worse, from targeting by criminal exploitation. The stories councillors heard in the council chamber were shocking in terms of what local residents had suffered, and Ben and Lucy don't accept that the answer is just to leave the resulting problems to the Police. The council needs to 'design out' crime, rather than making crime and anti-social behaviour much more likely in certain areas. We were disappointed with the council's response to the petition, a motion which did little to address the real problem and did not commit to better space out temporary accommodation.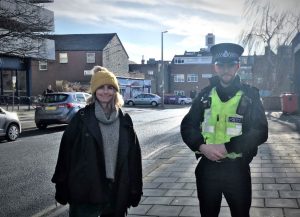 Lucy and Ben also met with police to talk about problems related to drug dealing and drug taking which were affecting residents in both Waterloo Road and Howard Street.
As well as attending the routine Police "Operation Highgate" meetings dealing with town centre thefts, addiction and anti-social behaviour, Lucy and Ben attended the online quarterly police priority setting meeting. It was agreed that Midland Road crime related to drug dealing should remain the police priority as the effects are so widespread. In Castle Road area, the priority was identified as thefts from motor vehicles which have become a very regular occurrence. Please continue to report to police. We know there are more crimes locally than get reported and it's important that local police get a true picture report to Bedfordshire police here or call the 101 (non-emergency) number. OR anonymously, Crimestoppers: https://crimestoppers-uk.org
Car Club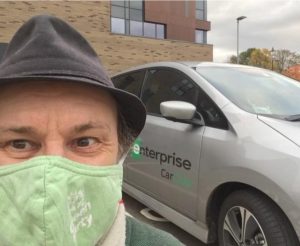 Green councillors Ben and Lucy are pleased to see the launch of a car club, with the first car (an electric) based at Riverside North car park. Car club membership is ideal for those who just need a car now and again or don't want the hassle or ongoing expense of owning a car. And it makes driving a greener electric car very affordable. As membership grows, more households will hopefully choose not to keep a private car, or at least not keep a second car, which will help reduce parking congestion in residential streets. Lucy had been pressing for a car club since long before becoming a councillor in 2019, and both have personally signed up. Shared mobility is the way forward! Info here
Cycle and Pedestrian Safety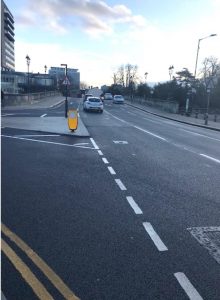 Lucy has been challenging the council on some of the council's new cycle schemes and road layouts, often very expensive, which have made cyclists less safe than before. We need more people to walk and cycle for health, better air quality and reducing carbon emissions but it has to be made safer and more attractive to get more people to want to make the switch. Lucy and Ben are worried, for example, about safety at the new junction where the High Street meets the Embankment (and where the 20mph limit ends) because cyclists continuing over the town bridge can suddenly find themselves sandwiched between lanes of faster moving traffic. It's also now harder for pedestrians to safely cross the Embankment at that junction.
Trees
Lucy continues to encourage residents to take part in the 'Trees for Streets' sponsorship to get more urban trees planted in our local streets and parks, now for next planting season (November to March 2023) and gave a presentation to the Going4Gold group at Christchurch. Take up in Castle ward has so far been relatively small but funding together with neighbours makes it more affordable for those who are interested. Street trees have lots of benefits including vital cooling effects during heat waves, improving air quality, reducing flooding, providing wildlife habitats and improving general wellbeing. Find out more here.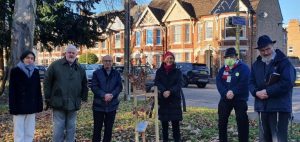 Bedford Repair Café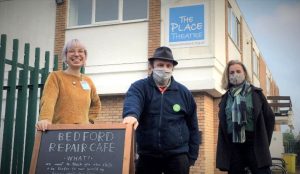 Green councillors Lucy and Ben have always actively supported Bedford's pop up repair café and were pleased to attend its first event since the start of the pandemic, at The Place Theatre on Bradgate Road. The group of skilled volunteers helped residents by fixing items from clothes to electrical items for a voluntary donation, saving items from going in the bin and saving people the cost of replacing. People can also learn how to do repairs themselves by watching volunteers. Together with Harpur ward councillors, Lucy and Ben used some ward funds to pay for the annual insurance and for publicity banners.
Planning Applications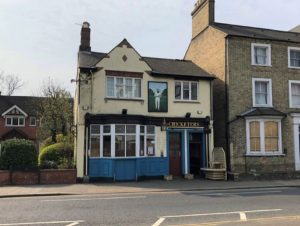 Both of our Green councillors Lucy and Ben have been supporting residents over planning applications in various places across the ward. Recent successes have included opposing the application to demolish the Cricketers Arms on Goldington Road and build a five storey block of flats in its place.
Another was in opposing the change of use of the "Athena Palace" on Midland Road that would have badly increased traffic problems and fumes at what is already one of the worst spots in Bedford.
We have responded, and continue to respond, to many other planning applications that affect the ward that haven't yet been decided, including cases that have been sent to the Planning Inspectorate for appeals.
Energy Bills
It is clear from announcements that all of our energy bills are going up again in April. But we know many of us don't have hundreds of pounds spare. So what can we do about it? Advice from Green councillors Lucy and Ben.
The first step is to cut down your use where you can: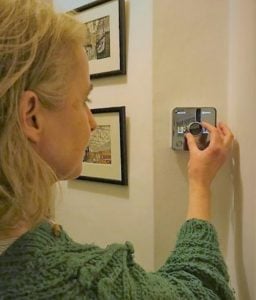 Only heat rooms that are in use, turning the valve on each radiator to turn off unneeded ones.
Try turning your thermostat down by 1o (but don't go too low – about 18o is far enough).
Use your heating time controls so it is off at night and when you aren't in the house.
Exclude drafts around doors: draft excluders are cheap and very effective.
Wait until you've got a full load for your washing machine or dishwasher, and use the
lowest temperature setting you can. Avoid using the tumble drier if you possibly can.
There is a "Warm Home Discount Scheme" for winter electricity bills. If you're on a low income or you receive the Guarantee Credit element of Pension Credit, then your electricity provider could receive £140 to offset your bill. For details go to www.gov.uk/the-warm-home-discount-scheme
Are you already struggling with your bills or falling into debt? Energy companies that do not meet their green targets are required to pay fines into a fund. If you seek help from a debt advisor, they can apply for a grant from this fund to help pay your energy debts. There are many free and confidential debt advisors available to help. To find one go to www.moneyhelper.org.uk
If you're finding you're having to choose between eating or heating, Lucy and Ben can refer you for support.
Longer term, more needs to be done nationally to improve insulation to help people save on their bills, but some people on benefits can get some help already: ask us for info.
You may find useful energy and water advice on the council website here
Changing Council Policy on Fossil Fuels
One of the big frustrations for us about energy bills is that if Government had been following the policies we have been advocating for years, people would have much lower bills. The high bills come from burning too much fossil fuel, when we have been proposing measures to reduce energy use like improved insulation, and to increase electricity generation by wind power that works out much cheaper. Thankfully, as part our campaigning to get this change in direction, we were able to get the backing of the whole council for our motion in January, resulting in the biggest change of council policy yet that your councillors have been able to achieve. Among the proposals in the motion was for the council to stop investing in fossil fuels, and to ask its pension fund to stop investing in fossil fuels. The council shouldn't have been funding these dead-end industries, and now should be shifting towards putting its investments into industries with a future.
Can you help by reporting to the Council online if you spot issues?
It's really quick and you are informed when an issue is resolved.
Flytipping (dumped rubbish): https://www.bedford.gov.uk/environmental-issues/keeping-bedford-borough-clean/dumped-rubbish-fly-tipping/
Dog muck: https://www.bedford.gov.uk/environmental-issues/animal-care-and-control/dog-and-dog-issues/
Drain Problem: https://www.bedford.gov.uk/parking-roads-and-travel/roads-and-pavements/drains/
Overflowing street bin: https://www.bedford.gov.uk/environmental-issues/keeping-bedford-borough-clean/littering-and-bins/
Road sign or bollard problem: https://www.bedford.gov.uk/parking-roads-and-travel/roads-and-pavements/street-furniture-maintenance/lighting/
Other issues: https://www.bedford.gov.uk/council-and-democracy/website-information/pay-report-request/report-it/
How can we help you?
Please contact your Green councillors direct with any issues on lucy.bywater@bedford.gov.uk  & ben.foley@bedford.gov.uk
Castle Ward includes most of the town centre and adjoining areas - it stretches from the railway to York Street (inclusive) and from Bromham Road/Goldington Road south to Rope Walk and St John's roundabout