Above Image Ejel  speaking outside the House of Lords 5/1/22
Long title (from Parliament website)
Make provision about nationality, asylum and immigration; to make provision about victims of slavery or human trafficking; to provide a power for Tribunals to charge participants where their behaviour has wasted the Tribunal's resources; and for connected purposes.
Nationality & Borders Bill
PDF
version
Ejel Says
I have spoken on two occasions in regards to my opposition of the Nationality & Borders Bill, which I felt dehumanised asylum seekers and refugees and stripped them of their fundamental human rights.
Image below Ejel speaking outside Downing Street 27/11/21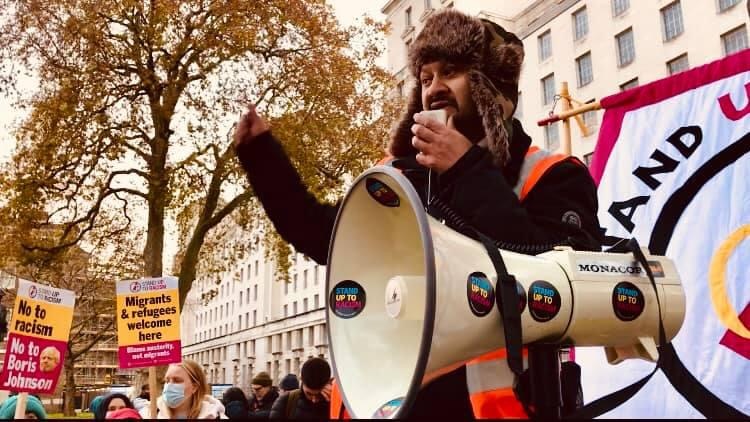 Transcript of Natlie's Speech in theHouse of Lords
My Lords, I begin with a short list of issues that I regard as priorities in trying to make this Bill less disastrously bad. I associate myself with every word said by the noble Baroness, Lady Coussins, about its impact on some of the world's most vulnerable women and girls. I note that expert legal commentators have described the equality impact assessment of the Bill as superficial and inadequate. Many of the same concerns apply to LGBTIQA+ refugees, a point made also by the noble Lord, Lord Ponsonby. The Bill is also of grave concern for its impact on children, as the right reverend Prelate the Bishop of Durham said.
In other contexts, we have heard the Government talk positively about "trauma-informed practice"—for example, in prisons. This Bill is the very opposite of that; it can only be described as abusive of trauma survivors. I note that a briefing from the Royal College of Psychiatrists says that
"a background context of basic physical and emotional security, including an assurance of safety and freedom from harm, is a key factor in recovery from most if not all mental disorders".
This Bill is clearly actively designed to take refugees who are already in situations far from ideal security and rip not just the rug but the entire ground from under them. They are refugees whose circumstances, as the noble Baroness, Lady Uddin, pointed out, we have often played a major part in creating.
I note also the extremely useful briefing from the Royal College of Paediatrics and Child Health, with its concerns about Part 4 of the Bill and age assessments, particularly its note that the use of ionising radiation for the purpose is absolutely inappropriate. Perhaps the Minister can give us an assurance that that will not happen, or a broader assurance as asked for by the noble Baroness, Lady Neuberger.
A noble Lord earlier described the Minister's introductory speech as spirited. Coming so late to this long debate gives me the chance to look closely at the Minister's speech. He said:
"The prevailing legal framework was not designed to cope with the type, and certainly not the scale, of the mass migration we have seen in recent years."
But, of course, the Bill is not about migration but asylum. The foreign-born population of the UK is about 9.5 million people. That is about the same number of Britons who live in other countries around the globe. Of that foreign-born population, 5% have come here as refugees—that is about 388,000 people, or 0.6% of the total resident population. We are not talking about a mass at all.
The Minister issued a challenge: that noble Lords set out
"what steps should be taken to achieve the object of controlled immigration, which many profess to support."
That challenge has been answered by many noble Lords, perhaps most notably and powerfully by the noble Lord, Lord Dubs. We need to provide safe, orderly routes to apply for asylum. However, I think the Minister was seeking numbers. I have a suggestion. As many noble Lords noted, France welcomes proportionately about three times as many refugees as the UK. That could be a starting point: set up an orderly, timely, effective system, fairly distributed around the world, recognising the UK's place in creating the circumstances forcing people to move, to welcome three times the number arriving now.
In that context, it struck me, looking at the Minister's speech, that a word was missing: a word that in the proceedings of your Lordships' House is clearly obligatory in almost every government contribution. That word is "world-leading".
I am sorry—world-beating. Perhaps either/or.
We are clearly not world-leading in saying "refugees welcome". Some 39% of refugees are hosted in five countries: Turkey, Colombia, Uganda, Pakistan and Germany.
The noble Lord, Lord Woolley, talked powerfully about Clause 9, on deprivation of citizenship—I have to declare an interest, in that this also affects me. However, I do not want just to attack this new provision; I want to say that we should abolish the whole power to deprive people of citizenship. If we trace back the history of this—I am afraid that it goes back to when the largest party on this side of the House was sitting on the Government Benches—we see that it is a classic case of hard cases producing bad law. It is one of the many examples of knee-jerk responses to populist outcries, cheer-led by the organs of a handful of right-wing media tycoons, which are eating away at the freedom and rights of us all. Once principles are conceded, the exercise of power always expands, in reach and force.
My noble friend said that we should throw out the Bill, and I agree. However, I have a final proposal for the Minister. Let us throw the Bill out, keep the few good clauses that are in there, and put them into a "refugees welcome" Bill.