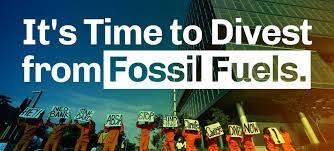 At Bedford Council's meeting on Wednesday night (12 January) the council overwhelmingly passed a motion proposed by Green Party's Ben Foley (councillor for Castle Ward) to "support divestment from fossil fuels" and to ask for the Bedfordshire Pension Fund and the Border to Coast Pension Partnership to remove all funds from fossil fuels.  
The wide-ranging motion also called for further carbon literacy training for council staff, and to accelerate work on circular economy initiatives, sustainable food strategies, waste reduction, and natural carbon capture.
Speaking after the meeting Ben said "It was really important that the council stopped making things worse through its investments, and stepped up its efforts to make things better. I am proud to have proposed this motion to end the council's fossil fuel investments. That was the biggest single change possible in a council motion, and the council has taken that massive step tonight."
Fellow Green Party councillor Lucy Bywater, who seconded the motion, also said after the meeting "Local councils have a responsibility to work for the public good; and shouldn't be financially and politically supporting the most destructive industries on the planet, fossil fuels. That goes against other efforts by the council to address the climate emergency. So, I'm pleased that Bedford Borough has joined increasing numbers of councils, universities and other public bodies in agreeing to address this. Divestment from fossil fuels is important alongside many other carbon reduction measures, and we look forward to seeing greater investments in renewable energy and building back better."
Greens point out that pension funds have legal and financial responsibilities to pension fund members and that investments in fossil fuels actually represent a risk in terms of 'stranded assets', a problem which former Governor of the Bank of England, Mark Carney, has warned of. Last year there were also warnings from the International Energy Agency "If we want to reach net zero by 2050 we do not need any more investments in new oil, gas and coal projects," THE IEA warns new fossil fuel exploration must end this year. However none of the 10 most important fossil fuel companies have committed to ending new exploration.