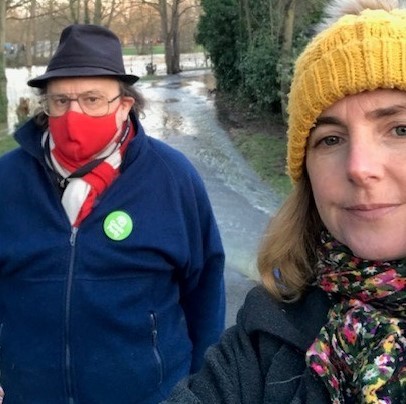 Lucy and Ben kept in touch with the number of Castle residents at risk of flooding at Christmas, regularly updating on social media with news from the council and the Environment Agency. Ben was out late on Christmas Day night leafleting those most at risk (thankfully not flooded in the end). Both went to have a look on the part of Castle ward south of the river on Boxing Day and got some helpful feedback, fed through to the Council later, on how things went. Thank you to council staff who worked so hard right through Christmas to keep people safe at a stressful time. We're glad to hear that a permanent pump is to be installed at the back of Bedford Girls School and that the barriers on that stretch did their job.
Litter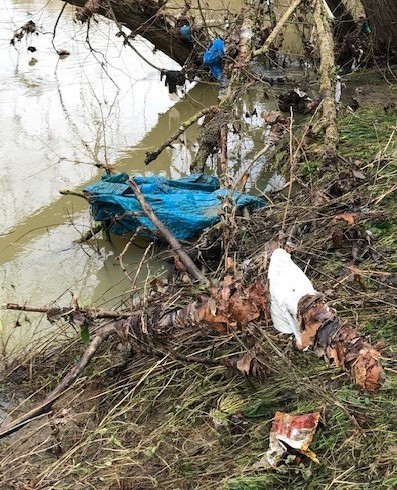 Few people can have missed the huge amount of rubbish and plastic caught in trees and undergrowth along the river as a result of the December flood water. Lucy asked about this in early January and has had assurances that there is a plan and resources to clean this up. We appreciate that the water level is still high and accessing all this rubbish to remove it won't be easy. In the meantime we've been picking easily reached litter on our exercise and have loaned litter pick sticks to a few energetic locals too. If you'd like to volunteer to do this, you can get the equipment dropped to you by the Council if you email: volunteering@bedford.gov.uk
Planting & biodiversity
When street trees are removed, either because they've died, are badly damaged or are causing damage to someone's property, we always ask when the tree will be replaced. (This has been the case in several spots recently). Lucy would also like to find 'street tree champions' to 1) help water young trees in our drought-prone spring and summer so that they survive, as some are already doing and 2) potentially sweep up debris such as squishy fruit to prevent slippery pavements and potential complaints from other residents. If you have a tree(s) in your street that fits the bill and are happy to help, please let Lucy know. Any offers much appreciated. We're pleased that our ward funded planting in the muddy corner outside the Salvation Army on Commercial Road has started and we look forward to it flourishing, lifting spirits for many people as they pass and attracting bees and butterflies. Look out also for the appearance of crocuses and daffodils funded and planted on the grassy Greyfriars/Alexandra corner near to Cycle King.
Crime
Burglaries, especially from sheds and back gardens have been a problem in recent weeks. As always, please continue to report together with any evidence you have to police, not just on social media (though the latter can obviously be useful too). https://www.bedfordshire.police.uk/A-Z/Gardens-and-outbuildings#87280308 Likewise cold calling which has sometimes been aggressive and/or suspicious: please always call 101 or, often easier, report online at https://bedfordshire.police.uk/report/
People in need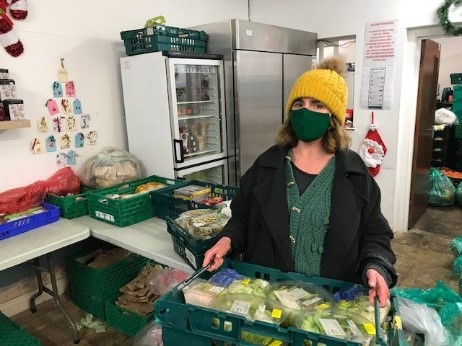 A reminder for those in real need at the moment, especially if for the first time because of the pandemic, that we may be able to help point you in the direction of available help. We can also issue Foodbank vouchers. We have both put ward funds towards equipment, including more storage and refrigeration, for groups helping with food for those that would otherwise go hungry including Food4 and the Community Larder on Greyfriars. Lucy has done weekly supermarket surplus food collections for the latter for a couple of years, helping to save quality fresh food from landfill. Ben is also a regular volunteer sorting edible food from inedible waste. We wish food banks and similar didn't have to exist but over a decade of austerity and the current pressures of the pandemic make them sadly much needed.
Can you help by reporting to the Council online if you spot issues? It's very quick and you are informed when an issue is resolved.
Flytipping (dumped rubbish): https://www.bedford.gov.uk/environmental-issues/keeping-bedford-borough-clean/dumped-rubbish-fly-tipping/
Graffiti: https://www.bedford.gov.uk/environmental-issues/keeping-bedford-borough-clean/graffiti-and-fly-posting/
Dog muck: https://www.bedford.gov.uk/environmental-issues/animal-care-and-control/dog-and-dog-issues/
Drain Problem: https://www.bedford.gov.uk/parking-roads-and-travel/roads-and-pavements/drains/
Overflowing street bin: https://www.bedford.gov.uk/environmental-issues/keeping-bedford-borough-clean/littering-and-bins/
Road sign or bollard problem: https://www.bedford.gov.uk/parking-roads-and-travel/roads-and-pavements/street-furniture-maintenance/lighting/
Other issues: https://www.bedford.gov.uk/council-and-democracy/website-information/pay-report-request/report-it/
How can we help you? We're sorry that we still aren't able to hold our usual in-person ward surgeries for Castle residents (Hopefully it won't be too long before we can return to the pattern of the first Saturday of each month 11am-1pm, alternating between the Eagle Bookshop and the Woolpack Hub). Meanwhile, please contact us direct with any issues on lucy.bywater@bedford.gov.uk & ben.foley@bedford.gov.uk
Castle Ward includes most of the town centre and adjoining areas - it stretches from the railway to York Street (inclusive) and from Bromham Road/Goldington Road south to Rope Walk and St John's roundabout