Green Councillors in Bedford
Bedford Borough Councillors - Castle Ward
Regular Surgery
Cllr Lucy Bywater and Cllr Ben Foley run a regular surgery for residents of Castle Ward. Visit them at Bedford Central Library, on the first Saturday or each month, between 11am and 1pm.
Cllr Lucy Bywater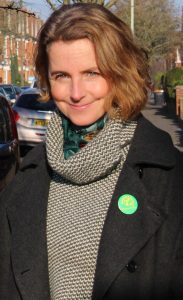 A message from Lucy:
"I've lived in Castle Ward, Bedford, with my family, for over fifteen years and for twelve years I have worked for a small business here.
I'm known locally for my involvement in community activities such as running the community herb garden on Rothsay roundabout; organising and joining many litter picks across the town; actively promoting a car club to ease parking congestion; campaigning on air quality and monitoring air quality local schools. I cycle regularly around town, and this keeps me in touch with the area.
Bedford needs Green councillors to provide an independent local Green voice on the council. As an independent local Green councillor, I will work constructively with other councillors in the best interests of residents but will challenge the council when I feel they are failing to do this.
I stand up for public services and work to improve the quality of life of residents, campaign for reliable, affordable, public transport, sustainable housing and initiatives to better fund and support local policing to reduce local crime.
I am disturbed by the way air pollution is ignored in Bedford and is allowed to affect our health, in particular the health of our children. As a long-time campaigner for air quality, I believe this is an urgent issue that needs to be tackled to improve our health and quality of life.
I believe that the time is right to push the message on environmental sustainability and on the urgency of climate change. Bedford Borough Council needs to put climate change at the centre of its local policy decisions and these issues affect the long-term safety and health of our community. These effects are happening now, and cannot be left for future generations to put right.
We need action now, and with my fellow Green councillor Ben Foley, as independent local green councillors we are committed to that action.
I know that Castle ward, taking in the town centre as it does, faces many mixed challenges. Ben and I will be councillors with integrity who really listen, and unlike other parties, are not 'whipped' to vote and support a national party line.
Working hard all year round, we have knocked on hundreds of doors and listened to your views. Together with Ben, and other hard-working local Green campaigners we will ensure your voices are heard loud and clear in the council chamber."
Cllr Ben Foley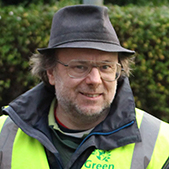 Ben Foley is best known as a long-term campaigner for Bedford's rail users. He was the key person behind the 'SaveOurTrains' campaign and set up the independent "Bedford Rail Campaigners" group. He has lived near the station for more than 20 years, bringing up two (now adult) children who have attended four local state schools. Ben has also campaigned for safer roads, and for parking improvements around Castle Road, has been active in litter picks around Midland Road and has joined in other campaigns locally, including for the NHS, and against air pollution.
Brickhill Parish Council
Cllr Tim Retout- East Ward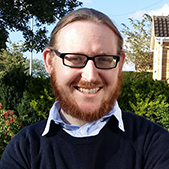 "I have served as a parish councillor for Brickhill since 2015 - in that time, I have been proud to support installing solar panels on the community centre, and exercise equipment on Waveney Green. Never afraid to get my hands dirty, I have myself planted bulbs next to Rooksmead pond, and reported dozens of street light fixes, potholes and broken signs for repair. I believe fixing small things such as these makes Brickhill a nice place to live.
I will be looking for ways that the Borough Council and other local organisations can respond to the IPCC's call for an urgent reduction in carbon emissions.  This is a genuine climate emergency, and we need to make it our top priority as a community.
My family and I attend St Andrew's church, where I sing in the choir on Sundays.  In my professional career as a technical architect, I have come to value getting the right things done, both efficiently and effectively.  I bring the same spirit to the parish council.