News from Councillors Lucy & Ben (Green Party councillors for Castle ward), Autumn 2021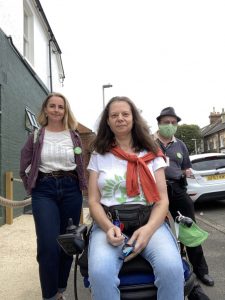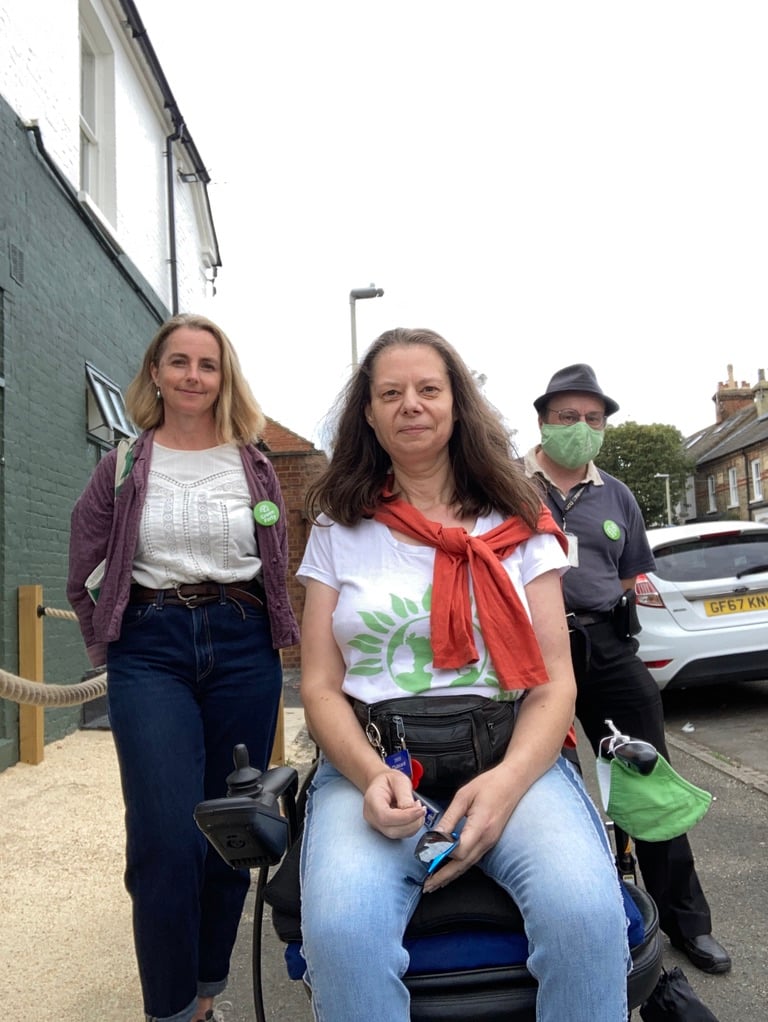 Calling on you
Over recent months Lucy, Ben, Philippa, and other members of the team have been working round Castle Ward trying to call on every door to check things are OK. We've almost completed that exercise now, but when we have, it doesn't mean we have lost interest. If you need help from a councillor please email lucy.bywater@bedford.gov.uk or ben.foley@bedford.gov.uk: don't wait for us to call round – it takes quite a long time to go round every door in the ward!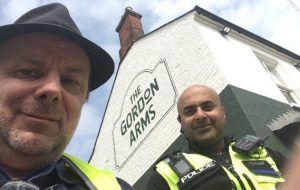 Crime
Ben joined with your local police officer for a Police 'surgery' session at the Gordon Arms, which was able to give some residents reassurance and distribute crime-prevention information.
In the Midland Road area, we've helped locals with a petition about temporary accommodation after an over-concentration of temporary accommodation led to exploitation of vulnerable people and serious problems in the street. Ben challenged the Mayor about this at the Council meeting in October and was shocked when the Mayor's only answer was to leave it to the Police. This is particularly worrying when the Council is about to open the third block of its own temporary accommodation in the area very close to Lurke Street. Lucy and Ben say "the best approach is to design-out crime. It really isn't good enough for the council to design-in crime and expect the police to pick up the pieces".
Both Green councillors attend the routine Police "Operation Highgate" meetings dealing with town centre thefts, addicts and anti-social behaviour. These meetings take place approximately once a month and give your councillors a chance to feed in information about problem locations and individuals, as well as enabling them to keep up-to-date as effective action is taken to deal with particular problems.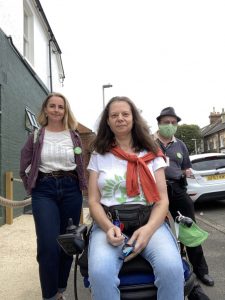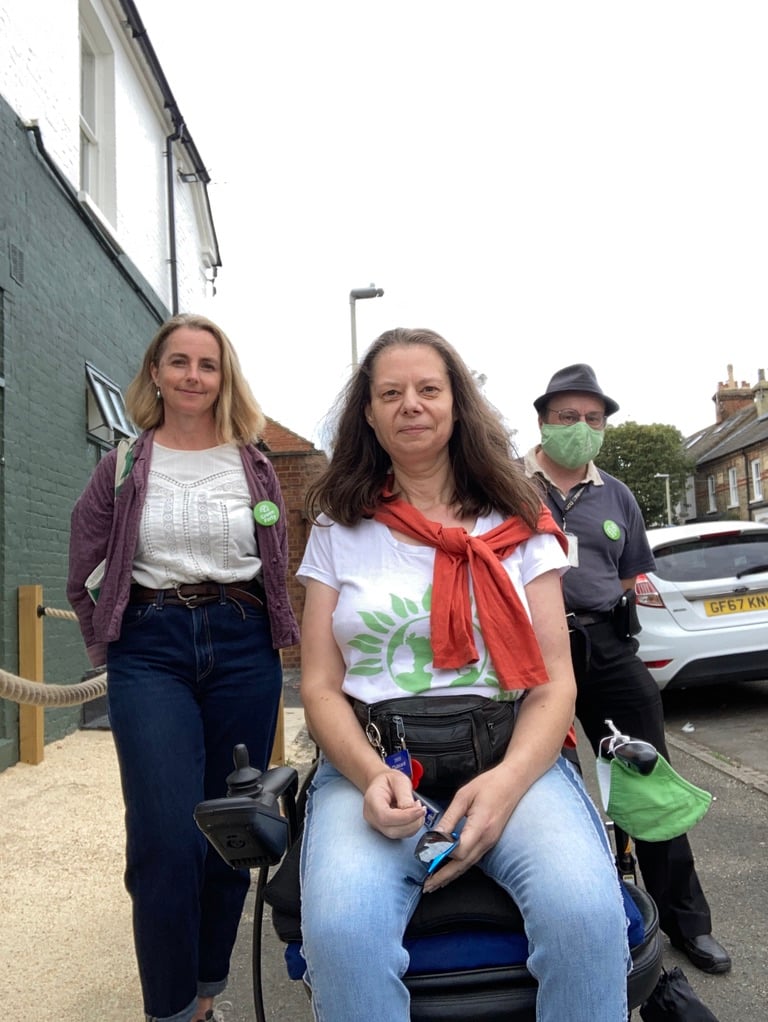 Safer Streets
In the summer Lucy and Ben joined the door knocking exercise as part of the £430,000 funded Safer Streets project in the Midland Road area, to make sure that residents knew how to use crime-prevention equipment they had been supplied with. They've also helped residents in a couple of places after new gates improved security so much, residents couldn't get in and out!
Ashburnham Road threatened demolitions
Lucy and Ben continue to find that when East West Rail is discussed, the residents of Ashburnham Road whose homes are threatened with demolition keep being ignored. Time and again, they raise the issue, and the particular situation of people whose homes are rented. Most recently on 15 October, the Green councillors made sure that the visit by EWR's chief executive made the short detour to see the homes threatened with demolition when it wasn't on the original programme.
People who rent their homes suffer when their homes are demolished, too! Lucy and Ben will keep working to make sure all the noise about other places doesn't mean that the Castle Ward residents threatened are forgotten about.

Litter and Waste
Finally, after a long pause because of COVID, the walkabouts the Green Councillors have with senior officers around the Midland Road area have started again. These take place every six weeks and provide a way to make sure that some of the real problems of this area are on the agenda of people who are able to do something about them.
Electric vehicle charging update
The new Russell Avenue electric vehicle charging points are up and running. These Connected Kerb posts are specifically aimed at local residents with no off-street parking. Initially, the council intended them to be a 'free -or-all' in terms of parking in the bays, but not surprisingly this has meant that EV drivers have often not been able to find a free bay to charge. So a Traffic Regulation Order has been put in place to limit the bays to EV vehicles only. We're hearing of demand from residents who have, or plan to switch to, an EV and they need the confidence of accessible charging.This location was one of several that we suggested to council officers, fulfilling the criteria of being easily accessible to as many streets as possible and NOT directly in front of someone's front door (such that if they didn't have an EV they'd never be able to park outside their house). Although we support EV infrastructure for its role in helping improve local air quality and reducing carbon emissions as more renewables come on stream, we know EVs are not currently affordable for many and in any case more reliable, affordable public transport and safer walking and cycling routes are what we're pressing for, as a well as a car club to reduce parking congestion.
Great Big Green Week
Lucy was involved with organising several events during September's national 'Great Big Green Week' to highlight the need for action on the climate and ecological crisis in the run up to COP26 in Glasgow in November. She arranged and attended with Ben a 'climate coffee morning' at Green Earth Café which several locals and Bedford MP joined. Council sports development and recycling teams, The Place Theatre and The Higgins were amongst organisations that got involved with the week holding talks, plant sales, wellbeing litter pick walks, cycle training and the Vegan Fair in Harpur Square.
BPHA
Ben attends the regular meetings of the BPHA partnership group, trying to make sure that the particular issue of the Housing Association's blocks of flats are dealt with in a joined up way. The meetings have helped Ben work with BPHA staff to solve a particularly difficult problem of an antisocial resident in one block, and so protect vulnerable residents whose lives were being made incredibly hard by the problem individual.
Drinks Licensing
Lucy and Ben have worked with residents of Merchant Gate to ensure that new cafes/bars opening on Riverside North don't cause the same problems that some of the previous ones did, with licensing conditions and restrictions on hours to balance business needs with the legitimate interests of residents. Elsewhere, they have worked to make sure that new businesses with off-licenses don't sell alcohol in ways that make the problems of street drinking, excessive alcohol consumption and anti-social behaviour even worse.
Trees
Lucy has been encouraging interested residents to sign up to sponsor 'Trees for Streets', via a charity that is working with Bedford Borough to get more trees planted in urban streets. Clubbing together with neighbours or even formally crowdfunding is a good way to make this more affordable. Street trees have lots of benefits including vital cooling effects during heat waves, improving air quality, providing wildlife habitats and improving general wellbeing. https://sponsor.treesforstreets.org/provider/bedford-borough-council
Longholme Lake
Lucy met with a council officer for open spaces, Tom at Longholme Café and a skilled volunteer to discuss how to deal with the weed which engulfs Longholme Lake in the hot weather. Various measures have been tried over recent years, with limited success. The lake is VERY shallow with limited water flow. As a result of discussions, an ecologist has been employed to investigate best measures, with a view to balancing needs of wildlife with some recreation, and a council engineer is looking at improving water flow between river and lake to hopefully reduce problems next summer when the Café will have brand new Viking boats that they have invested in. You may also have seen the Council's big Truxor weed cutter clearing in recent months. There is probably no single solution to keeping the lake clear but Lucy has pointed out that 2023 is the centenary of the creation of the lake and it would be good to be able to celebrate that by then it is thriving in all senses.
Boundaries
After repeated rounds of consultation, we finally know the outcome of ward boundary changes. Councillors continue to represent their current wards until the elections in 2023, but those elections will be for new boundaries. For Castle Ward, the part south of the river will join Cauldwell and Kingsbrook wards. North of the river, the part between Harpur Street/Harpur Square and the railway station will become a new "Greyfriars" ward, while the entire Castle Road area will be in a new ward called "Castle and Newnham" spreading all the way from Harpur Street/Harpur Square to the east of Newnham Avenue (and including the Wendover Drive estate). It's a bit odd calling it "Castle and Newnham", since the historic site of Newnham (and Newnham Priory) is outside its boundaries and it contains less than half of the current Newnham Ward, but it's what the LibDem's argued for
Our emergency services
Lucy attended the 999 Day on September 9th outside Borough Hall, paying local tribute to our emergency services and the NHS. She joined some councillors and Borough partners from the East of England Ambulance Service, Bedfordshire Fire & Rescue, Bedfordshire Police, Midshires Search & Rescue, MP and High Sheriff. This year, even more than most, has shown the value of all our emergency services in helping keeping us safe.
Active Travel to School
After some successes with Bike to School Week, Lucy is working with Castle Newnham to help get more pupils cycling and walking to school. The school is currently working towards the Modeshift Stars Silver Award. She'd love to hear from primary parents who'd like to join a small team together with a Year 3 member of staff to reach this goal. One issue of course is making cycling to school safer and more pleasant! Please sign our local cycle petition: https://actionnetwork.org/petitions/bedford-council-make-roads-safer-for-cyclists/
Wall update:
You may have seen that the heritage wall on Newnham Road near to Castle Mound has been successfully repaired (with the barriers are finally removed), since nearby residents pointed out it looked dangerous last summer and Lucy kept chasing it up. Now to make sure that it is checked annually as was advised as necessary to keep it in good shape.
Dates for your diary:
Volunteers needed for Refugee Clothes Sort, 1-5pm Saturday 30th October, at The Church of Jesus Christ of Latter Day Saints, 187a Bedford Rd, Kempston, MK42 8DG. https://www.friendsofrefugees.org.uk/
Critical Mass cycle ride, Saturday 6th November, meeting 2pm from opposite the Embankment pub. (We were pleased that police accepted Lucy's request to give out cycle security marking kits at the last one).
Can you help by reporting to the Council online if you spot issues? It's really quick and you are informed when an issue is resolved.
Flytipping (dumped rubbish): https://www.bedford.gov.uk/environmental-issues/keeping-bedford-borough-clean/dumped-rubbish-fly-tipping/
Dog muck: https://www.bedford.gov.uk/environmental-issues/animal-care-and-control/dog-and-dog-issues/
Drain Problem: https://www.bedford.gov.uk/parking-roads-and-travel/roads-and-pavements/drains/
Overflowing street bin: https://www.bedford.gov.uk/environmental-issues/keeping-bedford-borough-clean/littering-and-bins/
Road sign or bollard problem: https://www.bedford.gov.uk/parking-roads-and-travel/roads-and-pavements/street-furniture-maintenance/lighting/
Other issues: https://www.bedford.gov.uk/council-and-democracy/website-information/pay-report-request/report-it/
How can we help you? Please contact us direct with any issues on lucy.bywater@bedford.gov.uk  & ben.foley@bedford.gov.uk
Castle Ward includes most of the town centre and adjoining areas - it stretches from the railway to York Street (inclusive) and from Bromham Road/Goldington Road south to Rope Walk and St John's roundabout