News from Councillors Lucy Bywater & Ben Foley (Green Party councillors for Castle ward)
Summer has still been a busy time for Castle's councillors.
Those in need during lockdown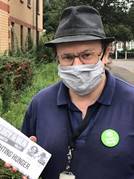 The continuing fallout from COVID, including some people needing to self-isolate is still leading to casework, some local residents having suffered dramatic drops in income. Although the ban on eviction for renters has recently been extended by the Government, that's just for a few weeks and will come alongside the ending of the Job Retention Scheme. So we're very concerned about a potentially sharp rise in homelessness here and nationally in the autumn and winter. Ben and Lucy continue to help at the Community Larder on Greyfriars and are able to issue Foodbank vouchers.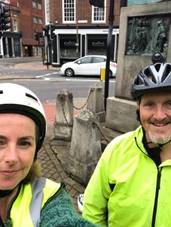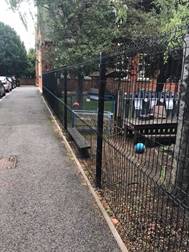 We were frustrated with the low level of ambition of the Council's application for the Emergency Active Travel Fund (walking and cycling, reducing vehicle movements) – especially compared to other councils' applications which received far greater sums - after we submitted detailed suggestions of where cycling and walking infrastructure should be improved. We currently await the outcome of the Council's second tranche of funding for permanent active travel.
Lucy has accompanied some individual residents on a cycle route of their choice to highlight dangerous, problem areas for cyclists. And would like residents to continue to help flag up obstacles to them and their families cycling to work and school.
As mentioned previously, we have been planning for increased biodiversity areas and tree planting across the ward for next year. Lucy was part of the recent first 'Bedford Biodiversity' (online) meeting, trying to find suitable locations and secure permission for volunteer planting of trees and sowing of wildflowers. Please continue to make suggestions for better wildlife areas you want to see by emailing the council: bugsandbees@bedford.gov.uk (We're pleased that some locals across Bedford have been putting a lot of thought into this). Lucy and Ben have also requested and agreed ward funds for attractive new planting on the unloved muddy patch of land in front of the Salvation Army on Commercial Road.
We've also agreed ward funds for council bulb planting (daffodils and bee-friendly crocuses) on Greyfriars. We hope children and parents on their way to school in the spring will enjoy these too. In addition we will devote a portion of ward funds for suitable new street trees to be planted this winter, having submitted a list of possible locations.
As a governor at Castle Newnham, Lucy is also working with staff to start to improve the wildlife area which it's hoped will benefit children's wellbeing. She has ordered Woodland Trust free tree packs for the south site and is working with staff on a wildlife-friendly hedge to cover the wire fence between the Early Years play area and the car park which will also have the benefit of reducing children's exposure to pollution from Goldington Road. Volunteers will be needed in coming weeks to complete these projects.
We have continued to respond to planning applications, paying particular attention to potentially cramped and poor quality conversions into yet more one-bedroom flats and bedsits in parts of the ward that have far too many already. Lucy helped a local family object to one in particular on an already over-developed site which was denied planning permission, and then alerted the council to the need for enforcement measures when a resident told her that building work had immediately started anyway!
Lucy also spoke at a Planning Committee devoted to the Aspects development, where she objected to the addition of two new drive-thru takeaways, bringing the total there to three. (This in addition to the new drive-thrus a short distance away on Goldington Road). Her objections were on the grounds of additional traffic, health effects of a concentration of fast food and even more litter to the nearby parks and river. Unfortunately the committee gave the go ahead to the plans. https://www.bedfordindependent.co.uk/massive-redevelopment-plan-approved-for-aspects-leisure-park-in-bedford/ We are looking into a Supplementary Planning Document to limit the concentration of new takeaways, as has been used in some other areas.
Meanwhile, Ben was able to successfully argue that Midland Road didn't need yet another take-away near the station, in an area which already has problems with take-aways open well into the early hours, associated antisocial behaviour and litter.
Ben has made representations to defend the interests of locals in a couple of licensing applications, which have meant that applicants have been granted permission, but subject to conditions of not selling the sorts of alcohol that cause problems in the town centre/Midland Road area. The businesses in question look like they could make real contributions to their locations, provided they do what they say they are intending to do.
Council COVID-19 help and information
Lucy and Ben continue to attend online briefings every week or fortnight by the mayor keeping up-to-date with local Covid-19 protections, council services and the local infection rate, asking questions about the reopening of services, discretionary support for businesses and areas around hardship and homelessness. Council committees continue to meet online as usual. The weekly Local Outbreak Engagement Board, which Lucy joined, had to wait for a delayed Deep Dive report which you can read here: http://www.bedford.gov.uk/covid19 . And a reminder that you can stay up to date with reliable information and help at www.bedford.gov.uk/covid19
The Council's Community Hub for Coronavirus support is still available for those in need. Visit https://www.bedford.gov.uk/social-care-health-and-community/public-health/coronavirus/coronavirus-community-hub/ or call the 24 hour hotline: 01234 718101
Keeping Castle ward in good shape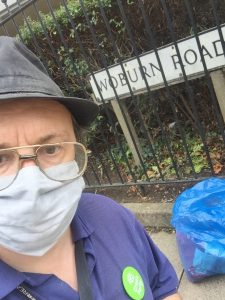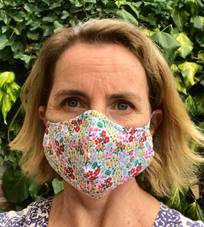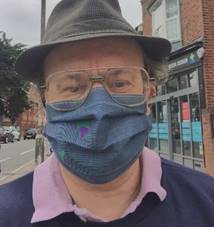 Lucy and Ben are proud of the Bedford majority's efforts to help protect others by wearing face coverings inside shops, keeping to social distancing and careful hand hygiene. It's good news that as from mid-August Bedford is no longer a Government 'Area of Concern' but it's far too early to relax and be complacent.
We're sorry that we haven't been able to hold our usual in-person ward surgeries for Castle residents (hopefully it won't be too long before we can return to the pattern of the first Saturday of each month 11am-1pm, alternating between the Eagle Bookshop and the Woolpack Hub). Meanwhile, please contact us direct with any issues on lucy.bywater@bedford.gov.uk  & ben.foley@bedford.gov.uk
Castle Ward includes most of the town centre and adjoining areas - it stretches from the railway to York Street (inclusive) and from Bromham Road/Goldington Road south to Rope Walk and St John's roundabout