Lockdown has led to a very busy time for Castle's councillors.
Those in need during lockdown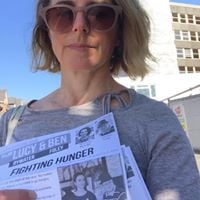 Probably top of the list has been extra casework, with some local residents having dramatic drops in income, and discovering that the 'safety net' has gaping holes in it. Far too many local people needed the information about free and cheap food that was on the leaflet we distributed.  A related aspect has been helping businesses apply for and (at least in some cases) get small business grants. We continue to look for ways to help out small local businesses. Both Lucy and Ben have spent quite a bit of time during lockdown making contact with people who are 'shielding', checking that support was available where needed and helping with errands in terms of food and medicines.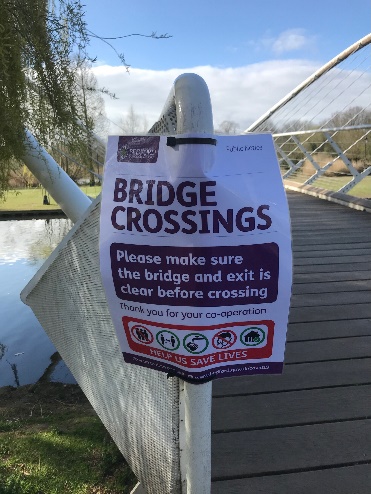 Early in lockdown when people were only allowed out for exercise, it became clear that there was a problem on the bridges, with people wanting to go in both directions at once in close proximity. At Lucy and Ben's request, posters were produced asking people to wait, which helped.
Unfortunately posters kept getting removed, and Lucy repeatedly replaced them.  Another need for posters was identified by Ben – the need to get key messages to people who didn't speak English.
As a result, the council specially got translated and produced posters in Polish, Bulgarian, Bengali, Urdu and Romanian – Lucy distributed some, while Ben passed on electronic versions to key contacts.
Both Lucy and Ben have routinely attended regular online briefings by the mayor (twice a week for most of the time since mid-March), keeping up-to-date with local Covid-19 protections, council services and the local infection rate, making suggestions for changes and looking for ways to help local people and businesses.
Council committees resumed online after a short pause and there has been a Local Outbreak Engagement Board added, which Lucy has joined, and there have been quite a few other one-off meetings related to the Covid-19 situation.
Many people have spoken of their appreciation of quieter, less polluted streets and new enjoyment of green spaces. Lucy and Ben have been investigating ways to make our streets safer and more pleasant for local residents walking and cycling, and trying to get the council to include the ideas that had local support in bids for central Government funding, the emergency active travel fund.
We are also working with the Council and individual volunteers (ourselves included!) to try to get on top of the greatly increased litter problem especially near the river and around Midland Road area. Although our wildflower sowing project in Russell Park had to be postponed because of lockdown, we have been planning for increased biodiversity areas and tree planting across the ward for next year.
Lucy has campaigned for reduced grass cutting in appropriate areas and reduced weedkiller use and we're pleased the council has made some commitments on both.
We want to see more evidence of continuing action on this. You can make suggestions for better wildlife areas you want to see by emailing the council: bugsandbees@bedford.gov.uk
Lucy and Ben represented local residents at a digital licensing hearing, making sure that the alcohol license had conditions that should reduce the chances of being a late-night nuisance just a few metres from a large number of residents' homes. We were happy with the result reached.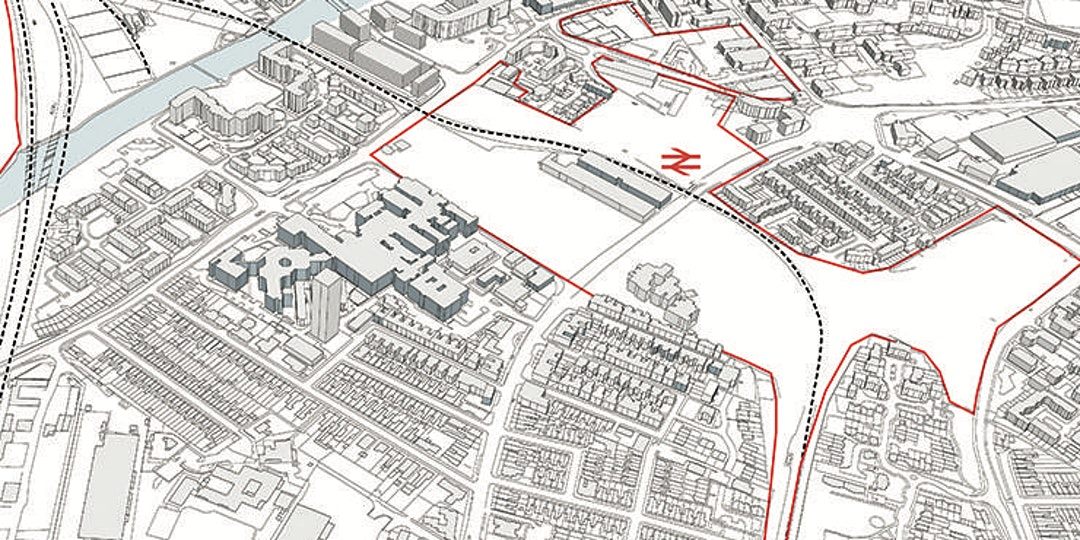 Both Lucy and Ben took part in a meeting about the Planning Brief for the area south of the river between St John's Street and Britannia Road, inputting on ways to increase the chances of it becoming a pleasant neighbourhood. Among the inputs were pointing out to the planners, who hadn't previously realised, that the western arm of Kingsbrook runs under Kingsway, and that opening it up could help give some pleasant streamside locations (if the traffic can be got out of the way).
More broadly, both Lucy and Ben have been continuing to respond to planning applications, making the case (sometimes successfully) that particular developments of yet-more one bedroom flats and bedsits would not be good for parts of the ward that have far too many already.
Council COVID-19 help and information
The Council's Community Hub for Coronavirus is still available for those in need. And is working with Bedford Kindness volunteers too. Email covid19help@bedford.gov.uk or call the 24 hour hotline: 01234 718101 And you can stay up to date with reliable information and help at www.bedford.gov.uk/covid19
Keeping Castle ward in good shape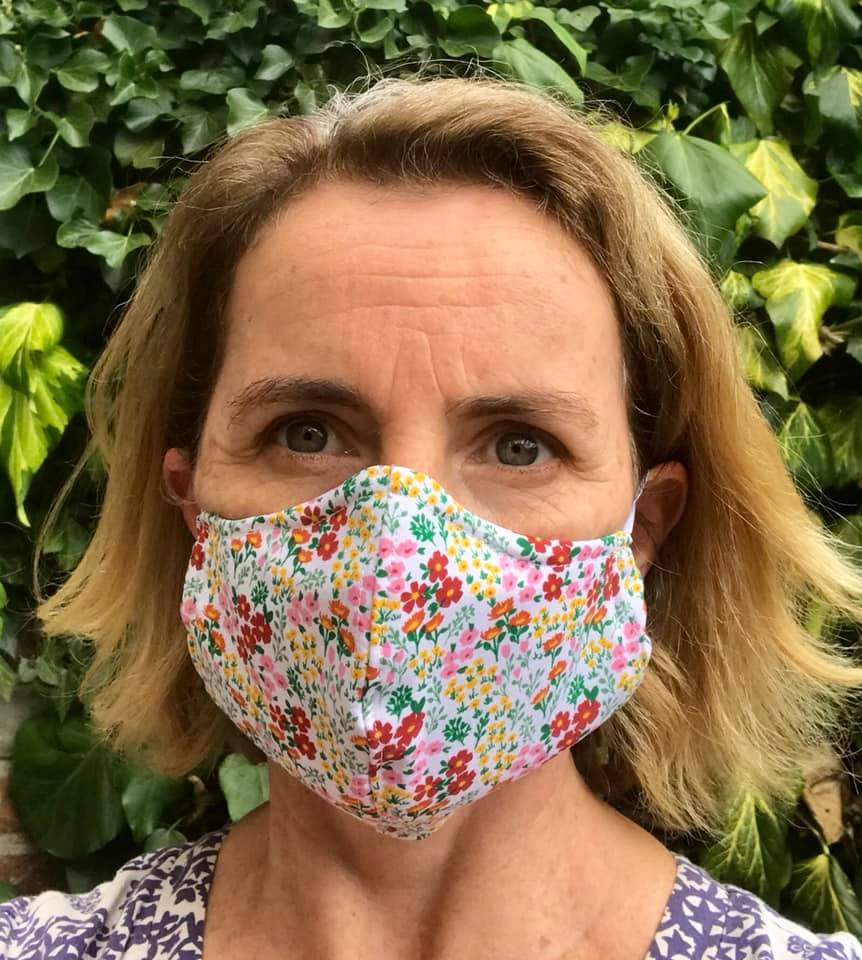 We are both pleased to see masks finally mandatory inside shops. This will help protect the community and potentially help minimise any second wave which would signal the end for some businesses who've put so many resources and efforts into opening safely. But social distancing and regular hand washing is still vital for now, masks alone aren't enough.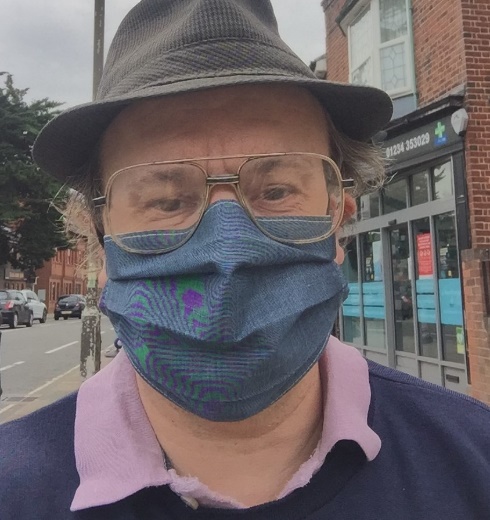 We're sorry that we haven't been able to hold our usual in-person ward surgeries for Castle residents (previously on the first Saturday of each month 11am-1pm, alternating between the Eagle Bookshop and the Woolpack Hub). Please contact us direct with any issues on lucy.bywater@bedford.gov.uk  & ben.foley@bedford.gov.uk
Castle Ward includes most of the town centre and adjoining areas - it stretches from the railway to York Street (inclusive) and from Bromham Road/Goldington Road south to Rope Walk and St John's roundabout