News from Councillors Lucy Bywater & Ben Foley (Green Party councillors for Castle ward), December 2019
A quick summary of what we were doing in Castle ward in December
We've been concerned about figures from the Cycling Campaign for North Beds, who we had a meeting with, that cycling numbers have dropped about 7% in the town centre compared to the previous year. This is likely to be partly due to the PSPO banning cyclists from the pedestrian areas of the town centre, including the very high number of Kingdom enforcement fines (while perhaps more problematic pavement cycling itself seems to continue with little challenge).
We are also concerned about the very high number of bike thefts especially from the station (Bedford is second only to St Albans station nationally). Ben has been talking to the station about how security can be improved. Although there is CCTV, we're aware that bike thefts may not always be followed up by potentially time-consuming scrutiny of footage to catch repeated thieves. However we are pleased that residents and police working together has resulted in the arrest of a prolific bike thief.
We're going to push for a cycle champion and the restarting of cycle strategy meetings at the Council. Air quality and traffic congestion means we need to do everything we can to make cycling in the town easier and safer.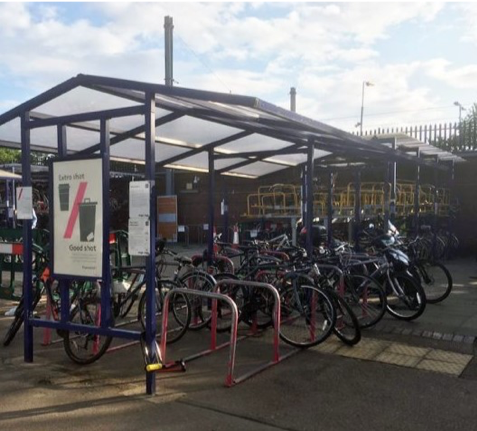 We continue to do regular inspection walks of the Midland Road area with Environment officers. In terms of very problematic alleyways between streets to the south of Midland Road, we're pleased with community safety officers' work to get Maitland-Costin Street alleyway soon closed with lockable gates so that residents only can access, after years of that alley being used for criminal activity and anti-social behaviour. There are ongoing planning issues with the other two alleyways which we are also keeping a close eye on. We're looking at various ways of resolving persistent fly tipping and other problems in the car park behind Midland Road entered from Western Street and have been working with a local business to share information with police on regular drug dealing there.
We're looking in detail at opportunities where we can help to make residents safer in their homes. At The Heights on St John's Street for example, Ben persisted over many months to get the managing company to fix a broken communal door broken door which had made several break-ins to flats too easy.
At the police priority setting meeting in December which Ben attended, residents were told about significant drug arrests (supply of cocaine and heroin) in Castle ward, proving that local residents passing on information is helping police to build cases against known drug dealers. Please keep reporting: www.bedfordshire.police.uk/report  or quickly and anonymously via our own link which we regularly pass on to police.
Lucy visited (and bought delicious soup at) the SoupFest fundraiser for local homeless charities which took place again in Harpur Square on December 3rd and raised thousands for several local homelessness charities.
Lucy also visited the town centre's Somewhere Safe to Stay overnight accommodation for rough sleepers at 44 Harpur Street when it held its first open day to find out about services available. Read more about this project. The next count (really an estimate) of rough sleepers in Bedford will take place on January 23rd. We hope to see the number dropping considerably.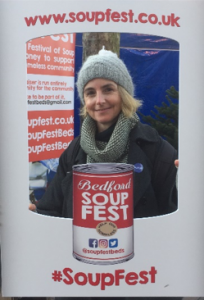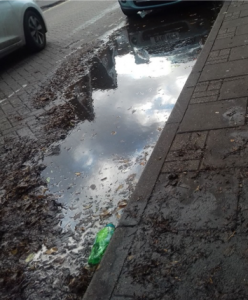 Heavy rain has showed up various issues with drainage where very large puddles/floods across Castle ward make getting around difficult for pedestrians and wheelchair users. We've reported a large number and work is being/will be carried out to sort these out.
Greening areas and improving biodiversity
Working with local experts on wildlife and biodiversity, we're planning a wildflower seeding of some of the  neglected-looking Thyme Gardens (below) in Russell Park. (Staff cuts across parks services in recent years are an issue). We'll be contributing ward funds to this project, want to get residents involved, and are looking do similar in 'unloved' patched across Castle such as next to the Salvation Army on Commercial Road and on Ashburnham Road opposite the station. Other suggestions very welcome. Research this week shows that people who live near green spaces, including in urban areas, tend to care more about the natural world. And even small green spaces nearby help improve well-being.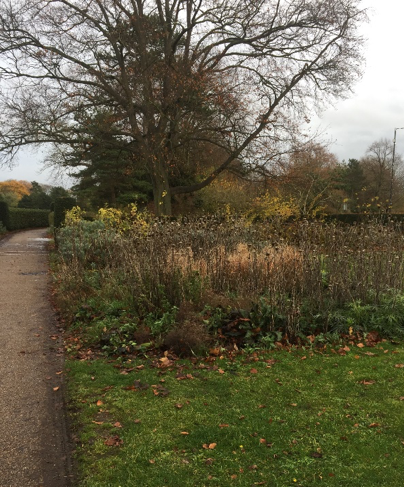 Ben attended a public meeting about the Bedford and Luton and Dunstable hospitals merger. Lucy sits on the Health Overview & Scrutiny Committee which was assured by Stephen Conroy at an October meeting that the merger was 'not planning any significant changes' and that A&E and maternity would be retained in Bedford. It's important however that we all keep an eye on this to be sure that key hospital services in Bedford are not lost.
We hold monthly councillor advice surgeries for Castle ward residents on the first Saturday of each month 11am-1pm. Next one is Saturday February 1st at the Woolpack Hub on the corner of Commercial Road and River Street, and we alternate venues with the relocated Eagle Bookshop, St Peter Street (Saturday March 4th). You can email us on lucy.bywater@bedford.gov.uk & ben.foley@bedford.gov.uk You can also find general information on this website.
You can easily report some routine local problems that need fixing via the Borough website: https://www.bedford.gov.uk/council-and-democracy/website-information/Pay-Report-Request/
 Castle Ward includes most of the town centre and adjoining areas - it stretches from the railway to York Street (inclusive) and from Bromham Road/Goldington Road south to Rope Walk and St John's roundabout.