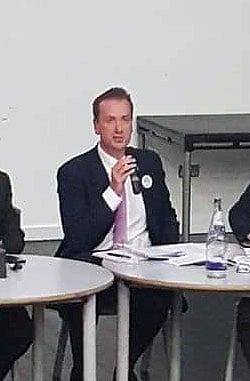 Andrew Waters received a warm reception at the South West Bedfordshire Hustings held at Cedar's School yesterday. The text of Andrew's speech is reproduced here for anyone who was unable to attend.
"Good evening. My name is Andrew Waters, and I am standing for the Green Party in South West Bedfordshire to deliver a better future for our community and our children.
By supporting the Green Party you will do your part to:
Tackle the climate emergency
Make society work for everyone; and
Have a People's Vote on Brexit
I'll be honest with you, I don't think I'm a typical Green Party candidate. If you'd told me even two years ago that I'd be standing here, I wouldn't have believed you.
Five years ago, when I became interested in the Green Party, I was a full-time commuter, balancing a busy job in London with a one year old at home.
I had an interest in the environment but no background in it. When I first considered Green Party policies, I was sceptical because they were so different to those of the other parties.
But - as I read more about the climate crisis, I came to understand that the Green Party's policies are so different because they are the only party willing to realistically address the profound challenges of the climate crisis. At the Green Party, we are proposing a revolution in renewable energy, a revolution in house building standards and a revolution in buses, trains, cycleways and footpaths. This is all alongside tree planting and re-wilding, as well as banning single use plastics for packaging.
You might have noticed that some of those policies have become somewhat fashionable - we must be onto something - but accept no imitations or cut price offers, no other party's manifesto comes close.
Not only that, but Greens present solutions which will strengthen our society, support those less fortunate and allow everyone to lead a fulfilling life. We would reverse the scourge of austerity which the Conservative government (and Mr Selous) imposed on us, and which has left us with 4 million children living in poverty, 4,000 homeless on our streets, and a 2,500% increase in the use of food banks over the past decade. I find those statistics appalling.
We propose significant funding increases for the NHS, schools and local government, as well as:
Free social care for anyone over 65 who needs it
Increasing the living wage to £12 per hour for everyone
35 hours a week free childcare from 9 months old
Support for workers in the gig economy
and much, much more. Our manifesto is a comprehensive, positive vision of the future.
It's not just at the national and global level that the Green Party will make an impact. I stand for local solutions which would improve the quality of life for residents of South West Bedfordshire. Here are my three pledges to you:
One - We would invest heavily in buses, walking and cycling to reduce the terrible traffic in Leighton Buzzard and Dunstable. I live in Billington, a mile from Leighton Buzzard, but there's no regular bus so if I need to get my young children into town I have no option but to drive. That's bad for everyone.
Two - We strongly oppose the expansion of Luton Airport and the Oxford-Cambridge Expressway. The Expressway, which could run just north of Leighton Buzzard, is proposed to have one million houses built along the route, in many places doubling the size of towns and villages in a part of the country which is already overpopulated.
Three - We would fight for better public services for our constituency. We have had recent issues with GP provision in Leighton Buzzard, academy schools in Dunstable, and a lack of available police and ambulance resources. The Green Party believes in properly funding our public services for everyone. Mr Selous has voted for cut after cut in those services.
Finally, Brexit. We are proudly pro-remain and support a People's Vote. Unlike others, however, we do not patronise or insult leavers. We accept that there are valid reasons to dislike the way the EU works, and we firmly believe in reform to make the EU more democratic.
However, the problem with the vote to leave was that it was a vote against something, but not a vote for anything specific. There are at least three versions of Brexit going about; Theresa May's Backstop Brexit, Boris Johnson's Union Breaking Brexit and Nigel Farage's No Deal Brexit. If the leaders of the Leave campaign can't agree on what Brexit is, then it's not surprising that Parliament can't either. Mr Selous, for his part, seems willing to vote for anything named Brexit; I don't find that to be a very principled position or any real attempt to reflect the views of the constituency.
We have heard it said a lot in this election that we should "Believe in Britain". But this "belief" in Britain seems to mean accepting lower food standards and higher drug prices just to get a trade deal with Donald Trump, a race to the bottom on the workers' rights, and a willingness to trash the environment for all for the sake of profits for a few.
We in the Green Party believe in Britain. We believe that Britain, with all its ingenuity, could be a superpower in sustainable technologies. We believe that we can forge a more caring, inclusive society whilst making that transition. And we believe that we could offer leadership to the world in relation to the most important issue of our time; climate change.
I am proud to stand before you today as a Green Party candidate, committed to delivering for our community. When faced with climate change, I feel compelled to do something, no matter how small, to try to help. I ask myself 'If not me, who?'
Please Vote Green at this election to send a clear message about the world and the local area you want to live in. I ask you, if not now, when?"
if you would like to ask Andrew a question, you can contact him at Andrew.Waters@greenparty.org.uk