Castle Ward News from Councillors Lucy Bywater and Ben Foley
October's council meeting was eventful for us as we proposed an amendment to a policy position for the first time, and gave our 'maiden speeches' to council in supporting it. Our proposal; that the council be more supportive of young people taking part in the climate strikes; was rejected by all the other councillors, even though all parties commended the young people's political engagement. Ben argued that it was hypocritical to both commend young people's political engagement, while having in place a system to penalise those whose engagement had been effective enough to get the issue raised in a council motion that attracted cross-party support. It was that motion to the council that Lucy and Ben had tried to amend. The next climate strike will take place on Friday 29 November.
Also on the theme of climate, some of you might have read that Ben was arrested during a peaceful protest in London. Ben explained to local press that "neither the UK Government, nor the Borough Council executive are working to get the area they are responsible for to be carbon neutral before 2050. And that is decades too late. This planet, our house, the only house, is on fire. I have done all I can to call to action those who should be acting as a fire brigade, but still they are dithering."
Lucy has been surveying where street trees are missing and have not been replaced and went on a walk with tree officers in the east of the ward. Some pavement repair issues were noted at the same time. Council funds are tight due to cuts but trees are gradually being replaced. Lucy and Ben will be contributing ward funds both for tree replacement and for new trees right across the ward. They're vital in terms of absorbing carbon, improving air quality and for wellbeing as well as for the visual look of our town.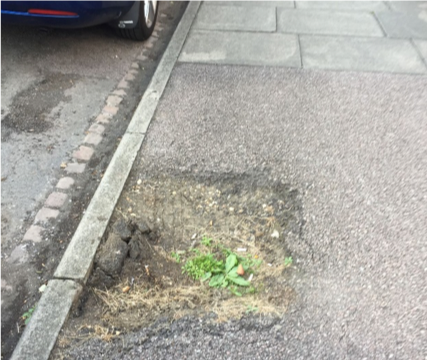 Electric Vehicle Charging
Lucy and Ben had a meeting with a council officer to discuss suitable locations within Castle Ward for kerbside Electronic Vehicle charging points. Several were identified that look like they could be useful for local residents without causing too much parking friction. We know there is demand in the area and some residents want to make the switch. Lucy has also spoken to local taxi drivers about how to support those wanting to make the switch to electric, which would benefit local air quality. The zap map shows you where EV charging points already in place. Overall we still favour public transport infrastructure and investment over EVs.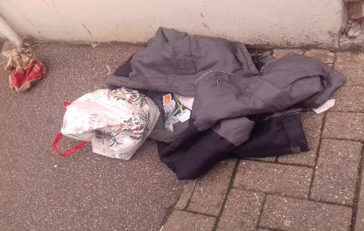 We both attended the regular meeting with police, community safety, Bedford Bid, BPHA and other agencies to coordinate efforts to tackle the big policing issue for Castle Ward – drugs and the problems that flow from them. The meeting included a description of the work of "Path 2 Recovery" by Bedford Adult Drug and Alcohol Sevice, who operate a no-appointment-needed drop in service for adults at 21 The Crescent, MK40 2RT, open 9am-12 midday Monday, Tuesday, Wednesday & Friday. And 5-7pm Thursdays.
We've been busy reporting a load of issues to get fixed: half a dozen incidents of flytipping, slippery pavements needing sweeping of leaves, several cases of paving slabs being so uneven they were a tripping hazard and one on the High Street that caused a nasty fall and was quickly repaired. Most potentially serious, though, were the multiple syringes left on the pavement on Bromham Road – which were cleared up as hazardous waste.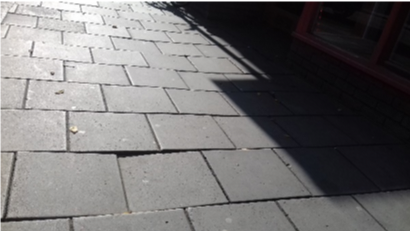 Ben had a meeting with a representative of Bedford and District Access Group, discussing various issues of access for disabled people within the ward, with a particular emphasis for now on St Cuthbert's roundabout and Mill Street. Both Ben and the group have a great interest in maximising access for disabled people across the ward – including the Town Centre, so they will continue to work together, and on a cross-party basis with other interested councillors. How inclusive do you find Bedford?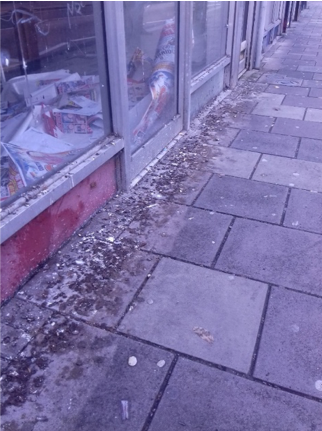 Ben took a tour with senior council officers of some of the parts of the ward that are particularly struggling, and made a particular request to go along part of Midland Road. This resulted in a clear-up of the large amount of bird muck outside the disused shop at 58-60 Midland Road (formerly Beegees). We also attended the regular multi-agency Midland Road Action Group. Businesses are now meeting to discuss working together on issues, which is positive for local residents. We are much closer to getting the troublesome Costin-Maitland Street alleyway closed. Residents surveyed were unanimous in wanting this to happen.
Lucy, as a member of the 'Corporate Parenting Panel' (off-putting name but basically about making sure Looked After Children get the best start) visited the Children in Care Council to meet children and youth workers in a relaxed atmosphere. And learned to play dodgeball! And during half term was delighted to join the Looked After Children's Celebration for younger children at St Thomas More School, to meet children, foster carers and social workers.
Natural resources & biodiversity
Lucy had a meeting with Edward Darling of the Redlist Revival and the Life Map, a data mapping initiative to show land, habitats, water resources and temperature. The initiative could benefit Bedfordshire by really engaging/educating local people. Lucy is trying to set up a meeting to gain the mayor's support and hopes to have news of this soon. See http://www.the-life-map.org/#number-3
We hold monthly councillor advice surgeries on the first Saturday of each month. Next one is Saturday December 7th Woolpack/ The Hub on the corner of Commercial Road and River Street, 11am-1pm. Thanks to the Salvation Army for letting us use this venue. We're now pleased that we're alternating venues with the recently relocated Eagle Bookshop and Gallery, St Peter's Street so that's where you'll find us on January 4th. You can email us on lucy.bywater@bedford.gov.uk & ben.foley@bedford.gov.uk You can also find general information on this website.
You can easily report some routine local problems that need fixing via the Borough website.

Castle Ward includes most of the town centre and adjoining areas - it stretches from the railway to York Street (inclusive) and from Bromham Road/Goldington Road south to Rope Walk and St John's roundabout.