News from Lucy Bywater and Ben Foley (Green Party councillors for Castle ward), October 2019
A summary of what Cllrs Lucy Bywater and Ben Foley have been occupied with during September, alongside responding quickly to residents with issues from fly tipping to anti-social behaviour and unsafe paving.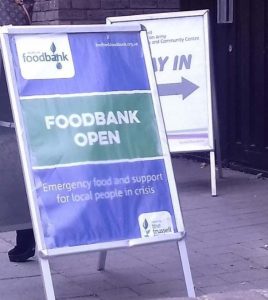 Salvation Army and Christchurch
We went to meet Graham and Angie at the Salvation Army and Richard at Christchurch to talk about the wide range of work they each do in the community, activities for all ages that we can help support and publicise.
Both also provide weekly venues for Bedford Food Bank. Loneliness and isolation and austerity were themes that came up.
We look forward to meetings with many other faith groups this Autumn.
Greyfriars Community Safety Event
On an unusually stormy evening, we both joined this local engagement event organised by BPHA for residents of the flats at Greyfriars. Police, fire services, Council services, and homelessness partnership were there. Some residents came along to talk to us about issues from anti-social behaviour and drug dealing to fly tipping and concerns about cuckooing.
Police Community Forum event
We both attended this quarterly meeting (at different venues, this time at Goldington Road Bowling club) for residents where drug dealing was once again set as priority for Castle ward. We're now arranging a Castle east specific police engagement event for November 7th because of the very regular issues with localised car crime, muggings and burglaries. Info to follow soon. Ben was also able to attend the similar forum event for south of the river which includes residents around St John's and Cardington Road which are also part of Castle ward.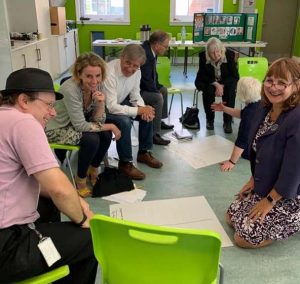 We attended the excellent deaf awareness course organised at The Higgins by Access Bedford. What emerged most from the day was not to underestimate the multiple barriers deaf and hard-of-hearing people face, not to make assumptions and to understand that many deaf people don't identify as disabled. This will hopefully help us to better assist local residents to access the services that are often taken for granted.
Replacement of lost trees
Amongst other things, we are plotting where street trees are missing across Castle ward & need to be replaced. Apart from the general aesthetic, urban trees have enormous value in improving air quality, local cooling, reducing storm water runoff, increasing biodiversity (especially if native trees), attracting businesses, reducing stress, increase wellbeing & even, according to recent research, helping reduce crime rates. We would love local residents to help us further by telling us where diseased/unsafe trees have not been replaced.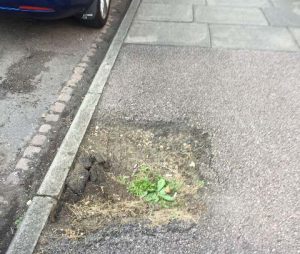 Alcohol licensing enforcement
Lucy spent a useful Friday evening out with members of the Licensing team on Midland Road and on Tavistock Street to observe the crack down on illegal street drinking and on those off licenses who are selling alcohol to people already drunk, which causes problems for the whole town centre.
Lucy has been working for a long while with residents of Cardington Road and Highways on the ongoing problem of dangerous parking and especially vehicle idling outside the Girls' School. (A problem outside many local schools!). More news on that soon. Lucy was also on BBC 3 Counties discussion to talk about air pollution from the school run in particular and what can be done about this public health crisis. Measures include enforcement against vehicle idling and double parking, more bike-ability training courses, walking buses and engagement with children by Sustrans visits to schools, for example.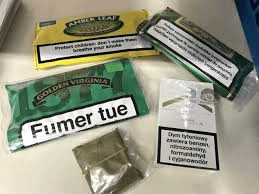 Lucy had a meeting to find out more about the huge problem of illegal/counterfeit tobacco which Trading Standards are working hard to tackle. This is a particular issue in Midland Road area of Castle ward. But also online locally. (Thank you to the local residents who are now sharing info on this with us). The amounts of money involved are mind boggling – taxes that could be funding NHS, social care, education and so on. And there are strong links with wider crime networks.
Lucy took part in a local training day on homeless law by JustUs homelessness advocacy charity. This is already helping us to better support homeless people in the Borough to get safe, secure housing that they're legally entitled to, with JustUs' excellent work. If you're concerned about a vulnerable person who's facing homelessness, please do get in touch with us so that we can make referrals to JustUs where possible. You may also find this helpful of course: http://cvsbeds.org.uk/bedford-homeless-partnership/
During Recycling Week, Lucy met with recycling officers in Borough Hall to talk about obstacles to people recycling increased proportion of waste. (The current rate for the Borough is about 43%). Flats continue to be an issue in terms of bin space and contamination. Municipal food waste composting will finally become a reality some time next year as it becomes mandatory across the country. National rules on waste and recycling are vital to help address this huge issue. By the way, on a local level, if you're able to have an orange bin, rather being supplied with than orange sacks, you'll help save money and resources for cash-strapped services.
We had a meeting with the YMCA at the Foyer in Conduit Road to talk about their work with young people, engaging with their neighbours and their plans for the future. More of which soon. We plan soon to visit the YMCA's Weaver House too.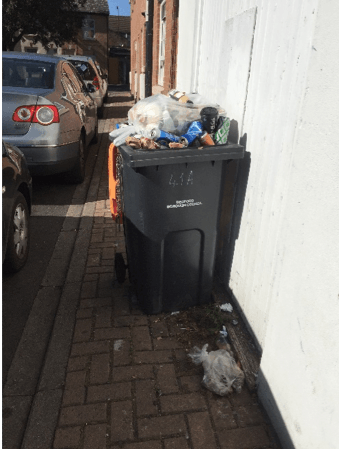 We both attended the Midland Road Residents' Association to hear concerns from residents and to update them on what we're doing in the area. There's positive news about a multi-agency hub on Midland Road. We also joined the MARA Autumn litter pick and reported problems with fly tipping and overflowing bins. We're pleased to support the new Neighbourhood Watch group at Sovereign & Heron Quays, and Ben was able to join their community litter pick too. We continue to join senior Environment officers on their monthly inspections of the streets around Midland Road.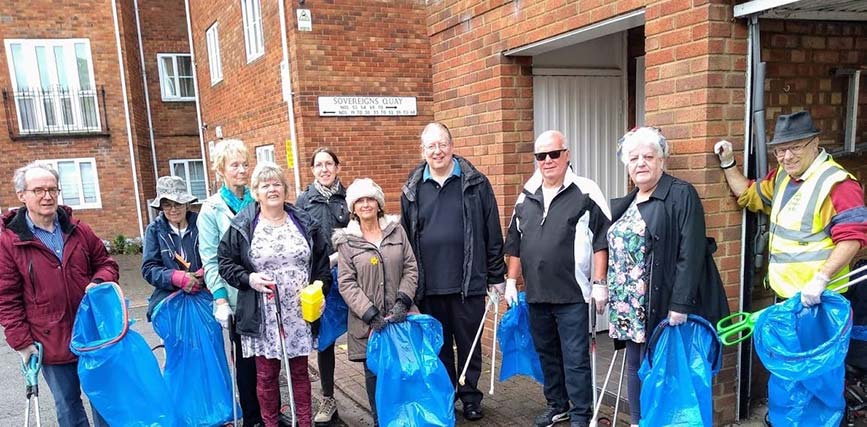 Lucy spent a fascinating morning, alongside Newnham councillors, walking with and hearing from Jon Bishop, ranger at Priory Country Park, recently awarded a green flag once again. Jon's long experience of thoughtful management of the park and his passion for biodiversity are inspiring. Due to cuts, rangers are relying on volunteers to help them with a quite a lot of important work. If you're interested in volunteering, email: prioryrangers@bedford.gov.uk We're fortunate to have this on our doorstep and a lot of Castle residents benefit enormously. http://priorycountrypark.blogspot.com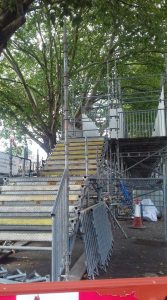 Bromham Road Bridge Access
As a result of Ben's ongoing dialogue with Network Rail and his request, Network Rail changed plans for the temporary footbridge over the railway to include a staircase, which will save those walking over this bridge about 100 yards walk if they are going between the double mini-roundabouts and Queens Park. This should help children going to school in Biddenham, as well as the residents of the north part of Queens Park well into next year.
How can we help you? We hold monthly councillor advice surgeries on the first Saturday of each month. Next one is Saturday November 2nd in the foyer downstairs at Bedford Central Library, 11am-1pm. (And we now alternate these monthly surgery venues with the Woolpack Hub on Commercial Road, just opposite the Salvation Army). You can email us on lucy.bywater@bedford.gov.uk & ben.foley@bedford.gov.uk You can also find general information on this local Green Party website, or on our individual councillor Facebook pages.
You can also report some local problems that need fixing via the Borough website: https://highwaysreporting.bedford.gov.uk/
Castle Ward includes most of the town centre and adjoining areas - it stretches from the railway to York Street (inclusive) and from Bromham Road/Goldington Road south to Rope Walk and St John's roundabout.