News from Councillors Lucy Bywater & Ben Foley (Green Party councillors for Castle ward), September 2019
I met with JustUS Homeless support and advocacy charity. We're planning on doing their Homelessness Law training coming up to better understand the Council's legal responsibility and how we can help local homelessness families in trouble. The registration fees from Castle Jumble Trail stalls are also being donated. See their website: https://bedfordhomeless.org.uk/organisations/justus/
We also met with the Kings Arms Project (celebrating their 30 th year this year) who, amongst many other things, run the night shelter in Clarendon Street as well as transition 'move on' housing and pathways to employment & training. They'd love local businesses to accept more homeless people as volunteers to help them gain confidence and skills. https://www.kingsarmsproject.org/ They also flagged up the community sponsorship of refugee families. Have a look at https://resetuk.org/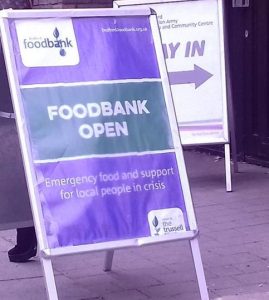 Continuing the austerity theme, we visited the Food Bank depot. They provide emergency food packages to about 600 people each month, two thirds being adults. So far this year, that includes 825 people from Castle ward. They have enough volunteers at the moment (about 100 regulars) and are grateful for food donations at supermarket exits, but funding is always an issue for their overheads. A new fundraising appeal starts very soon.
Midland Road Action Group
We had a really positive meeting with agencies who all share the goals of improving Midland Road Area for residents and businesses, reducing crime and anti-social behaviour, improving safety and wellbeing, strengthening community and helping local people feel pride in their area. This was not a talking shop but about concrete proposals which we support. More news soon. Ben and I also started the first of regular walks of the area with the Environment team looking particularly at litter, fly tipping and vandalism. Proactive work by the team, with other departments, is showing improvements on this score.
Bedford BID ('Love Bedford')
We met with Sam and Christina at Bedford Bid, funded by 600 businesses, to talk about the town centre, challenges for business (such as thefts and begging) and the refurbishment of the Harpur Centre. The vote on renewing the BID comes up in October.
Companions Bread Community Interest Company
I met with Nigel and Sue from Companions Bread café, to hear about their excellent work with ex-offenders who gain vital skills and support to rebuild their lives. Their ethos is based on 'honest bread' (real sour dough, nothing artificial) and 'honest lives'. They have a fundraiser on September 20th with Rebecca deWinter, and raffle prizes are welcome! https://companionsrealbread.uk/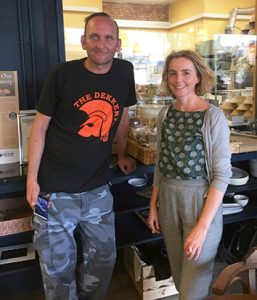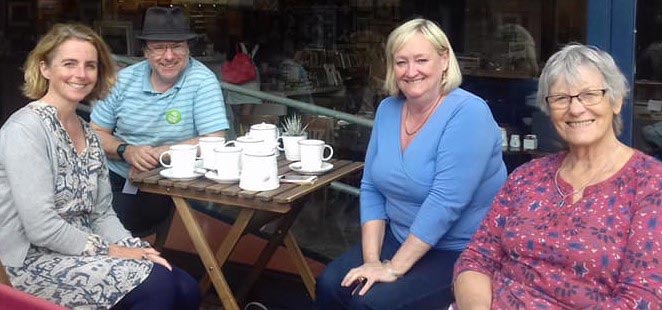 Green Business Network meeting, with BCCF
We met with Jane Varley of the Green Business Network alongside Bedfordshire Climate Change Forum to talk about the funding challenges to the network which helps businesses (currently about in terms of carbon reduction, sustainability and risk management due to the climate crisis. They currently run monthly seminars for businesses. We've arranged for the GBN to meet with us and the Council to see how we can support and expand the network into next year. http://www.gbnbedfordshire.org.uk/
I went on a walk with a Cranfield University soil scientist and a local wildlife expert to map possible areas in Russell Park area which could be used for sewing wildflower mixes, talking also about engaging locals about biodiversity, invertebrates and how 'tidy' is not always healthy for wildlife or for us. Hope to have more news on that soon.
In August Ben and I joined the Joint Action Group at Lime Street police station, discussing local crime and related issues with BPHA, town centre security and Bedford Homeless Partnership. We're still gathering info on drug dealing in behalf of residents (anonymously) which we are sharing with community policing team on a regular basis. OR we recommend, rather than a potentially frustrating time on hold (calling 101) that people report ALL non-emergency crime online: https://www.bedfordshire.police.uk/report/Report Police are stressing the need to report.
Bedford Pilgrims Housing Association (BPHA)
We had a useful walk at the beginning of the month of BPHA properties close to the town centre, hearing from Angela and Kim about the issues and challenges, residents' safety and wellbeing and the crucial issue of engagement with BPHA residents. At the end of the month we were invited to BPHA's Manton Height offices to look at planned proposals for a big refurb of Ashburnham Court
(opposite the station), and how residents are being consulted on the improvements.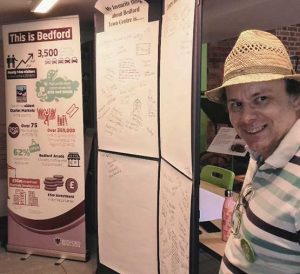 Town Centre Plan consultation
We need a town centre genuinely fit for the future, in terms of affordable housing, better public transport, air quality, low carbon, sustainable local businesses (but less retail, for which there is less demand) and which enables and encourages walking and cycling for the able bodied. Ben went along to the consultation session at The Higgins. Make sure you have your say by 27th September. https://forms.bedford.gov.uk/TCS/
Greyfriars Police Station redevelopment
We commented on the plans for the police station redevelopment. While we welcome more town centre housing, especially not just one-bed flats, we have reservations about the outdoor space, proposed retail at the rear and the parking spaces.
We've reported specific details on a lot of unsafe paving across Castle ward which is a hazard especially to the elderly or disabled. Several spots have already been repaired, at least temporarily, such as Alexandra Road, for example, where vehicles on the pavement had caused slabs to break and tip causing injuries reported by two residents. Rothsay Road north section has also been scheduled for work now.
Network Rail and Ashburnham Road footpath
Ben was concerned on seeing Network Rail work on the pavement near the station car park which was effectively pushing pedestrians right onto the busy road. He complained and quickly got signage improved.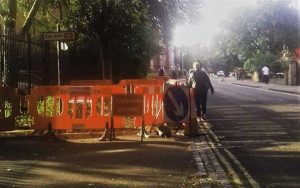 We hold monthly councillor advice surgeries on the first Saturday of each month. Next one is Saturday October 7th the foyer downstairs at Bedford Central Library, 11am-1pm. (If you'd like to suggest another suitable venue within Castle ward which we could perhaps alternate with our library venue, please get in touch).  You can email us on lucy.bywater@bedford.gov.uk & ben.foley@bedford.gov.uk  You can also find general information on the local Green Party website: https://lutonandbeds.greenparty.org.uk/
You can also report some routine local problems that need fixing via the Borough website: https://www.bedford.gov.uk/council-and-democracy/website-information/Pay-Report-Request/
 Castle Ward includes most of the town centre and adjoining areas - it stretches from the railway to York Street (inclusive) and from Bromham Road/Goldington Road south to Rope Walk and St John's roundabout.